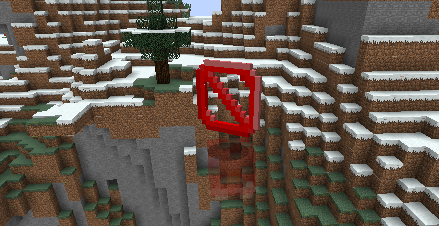 Minecraft snapshot 14w05b
One day this piece of text will contain some really important information that could change the fate of Humanity, and nobody would know because nobody reads this text anyway. Oh, sorry, what was that? Snapshot? Oh right yes of course! Here we go:

Notable additions for survival:

Book copying mechanics has been altered to differentiate the original & copies of books
Activator rails can eject entities from Minecarts

Notable additions for mapmakers:

Added a spectator gamemode (/gamemode spectator). Not 100% finished.
Spectators cannot be seen by anybody but other spectators
Spectators can view inventories/etc, but not modify them
Spectators can go through any entity or block without interfering with it
Spectators can click on entities to take their camera
Spectators cannot use items, place blocks, destroy blocks or interact with blocks in any way
Spectators are only slightly buggy maybe sometimes
https://mojang.com/2014/01/minecraft-snapshot-14w05a/
適当な訳
いつの日か、このテキストの一部は本当に重要な情報に含まれると思う。人間性の運命を変え、誰もそのテキストを読まないので誰も知らない。えーっと、ごめんなんの話だったっけ?スナップショット?そうそう勿論そうだった。それじゃいこう:(勝手に注釈:元のブログの文章もなんだか意味が分からないので、ネタ的なものだと思う)
サバイバルモードに関する特筆すべき追加項目:
本を複製する機能がオリジナルとコピー品を区別できるように変更された
アクティベーターレールでトロッコ(Minecart)からentitiesを排出する事ができるように
マップ製作に関する特筆すべき追加項目:
スペクトモードの追加 (/gamemode spectator)。まだ100%終わってない。
スペクト中は他のスペクテイター以外のプレイヤーからは見えない。
スペクト中はインベントリーなどが見える事が出来る。ただし、インベントリを変更する事は出来ない。
スペクト中は妨害されてない限り、ブロックや entity をすり抜けることが出来る。
スペクト中は entities をクリックするとその entities のカメラになる。
スペクト中はアイテムの使用、ブロックを設置、ブロックの破壊またはブロックへ作用する事が出来ない。
スペクト中は時々ちょっとだけバグっぽい所がある。
その他の大量のバグ修正
Bugs fixed in this snapshot:
[Bug MC-38944] – Joining Realms World "Cancel" Button Mis-Placed
[Bug MC-44521] – @a, @e, and any UUID references work incorrectly after a player dies.
[Bug MC-45050] – /fill … skull | Hitbox Bug
[Bug MC-45159] – Blocks with tile entities don't get removed when you clone / fill an airblock to their position.
[Bug MC-45453] – Items & Blocks placed in item frames are rendered incorrectly
[Bug MC-45470] – Items don't render on the ground properly
[Bug MC-45478] – Pre-snapshot14w04a villagers break crops but don't replant them
[Bug MC-45492] – Transparent blocks are much darker
[Bug MC-45554] – Two tall flowers variants are not generating.
[Bug MC-45763] – Some blocks are facing the wrong way if placed in an Item Frame
[Bug MC-45764] – Map will not show in item frame
[Bug MC-45795] – Villagers can not place or pick up any crops
[Bug MC-45847] – /summon Villager Farmer NBT tag canPickUpLoot will default to 0
And many more that weren't on the bug tracker so we couldn't mark them as fixed! Did I mention please report bugs? Thanks.
Related Posts