Pocket Edition Beta 0.14.0 available for Android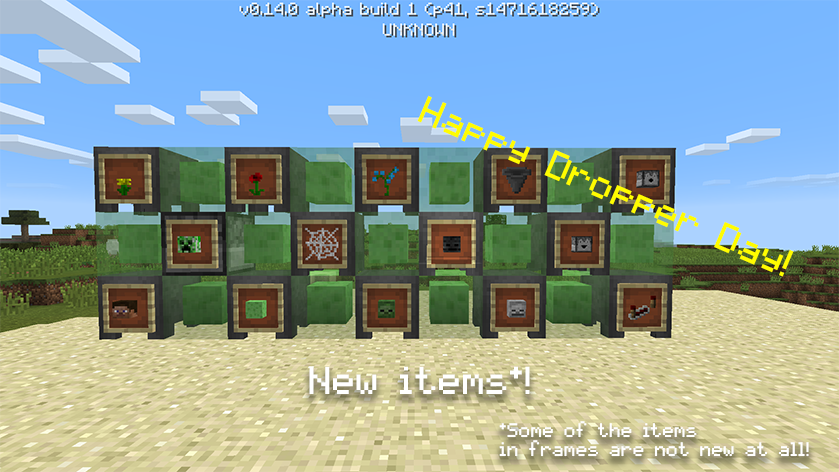 Useful Links:

Here's the full changelog:

New Features:

Cauldrons

Maps

Hoppers

Dispensers

Droppers

Item frames (full of bugs! keep on testing!)

Slime blocks

Creative inventory

Witches

Repeaters and Comparators

Red Sandstone

Pumpkin hats and Mob Head hats

Double trapped chests!

UI scale slider.

Tweaks:

Cleaned up textures a whole lot.

Replaced Pocket Edition start screen with new UI.

Baby zombies now have a 15% chance to want to be a jockey. If they want to be a jockey, then upon getting near a player they will look for one of the following to ride before attacking the player (Adult Wolf, Adult Ocelot, Cow, Pig, Sheep, Adult Chicken, Spider or Adult Zombie).

Regular screenshots are now full .png files.

Made Ghast eyes, Blazes and Magma Cubes Cores bright!

Fix iOS and Android build issue.

Fixed door textures (at last).

Improved slime spawning.
http://mojang.com/2016/01/pocket-edition-beta-0140-available-for-android/
適当な訳
便利なリンク:
変更点:
新しい項目:
釜

地図

ホッパー

ディスペンサー

ドロッパー

アイテムフレーム(沢山バグがあるので、テスト中!)

スライムブロック

クリエイティブインベントリー

ウィッチ(魔女)

リピータとコンパレータ

レッドサンドストーン

パンプキンハットとMOB ヘッド

ダブルトラッパーチェスト!

UI スケールスライダー
小さな変更点:
テクスチャーを綺麗に

ポケットエディテョンのスタート画面を新しいUIに置き換えたR

ベイビーゾンビ(子供のゾンビ)が15%の確率でジョッキーに。もしベイビーゾンビがジョッキーなる場合、プレイヤーを攻撃する前に乗り物を探す(大人の狼、大人のオセロット、牛、豚、羊、大人の鶏、蜘蛛、大人のゾンビ)。

スクリーンショットが.pngファイルに

ガストの目、ブレイズ、そしてマグマキューブのコアが輝くように!

iOS と Android のビルドの問題を修正

扉のテクスチャーの修正

スライムのスポーンを改良
Related Posts