Minecraft Skin Studio Encore now available!

https://www.youtube.com/watch?v=n8FNCrjPtnY
To celebrate two years of skin sharing, Minecraft Skin Studio has been completely redesigned!

Since the release of Skin Studio over 900,000 skins have been created, almost 3,000,000 comments written, and over 2,500,000 likes cast. Not too shabby. A lot has changed in Minecraft since then too, so rather than patch the older version, the good people at 57digital have remade their app from the ground up.

Skin Studio Encore now features:

A completely new user interface and easier to use editing system
Full support for both Steve & Alex
3D Previews everywhere – including while editing your skin!
Uses the new Minecraft API for importing a skin by username
Loads of advanced tools (including the much requested copy & paste!)
Over 900,000 community skins
The ability to submit your own creation to the community or download & modify!
Upload your skin to minecraft.net and change your skin for PC/Mac.

A trial version of Skin Studio is also available. Skin Studio Lite gives you the chance to design a full Minecraft Skin, but with slightly limited tools. It's also worth pointing out that Skin Studio Pro users get the Encore upgrade for free! Just go to the updates tab on the app store.

Don't forget about 57digital's other apps too! Minecraft Papercraft Studio and Minecraft Skin Scanner are also pretty cool!

Happy Holidays everyone!
https://mojang.com/2014/12/skin-studio-encore-now-available/
適当な訳
スキン共有の2年を記念して、Minecraft Skin Studio が完全にデザインしなおされました!
Skin Studio のリリース以来、900,000 を超えるスキンが作られました。そして約 3,000,000 のコメントが書き込まれ、 2,500,000 の「いいね」がつけられました。古いバージョンのパッチではなく、沢山の変更がマインクラウトにされて 57digital の人々がアプリを徹底的に作り直しました。
Skin Studio Encore の項目:
完全に新しいユーザーインターフェースと、より簡単に編集を使えるシステム
スティーブとアレックス(マイクラの自分のキャラ2タイプ)の両方をフルサポート
3D プレビューをどこでも – スキンの編集中を含む!
ユーザーネームからスキンのインポートをするために、新しいマインクラフト API を使う
アドヴァンスツールのロード(沢山リクエストされていたコピー&ペースト!を含む)
900,000 を超えるコミュニティスキン
あなたの創作物をコミュニティがダウンロードしたり変更する承認する機能
あなたのスキンを minecraft.net にアップロードでき、PC/Mac のあなたのスキンを変更できる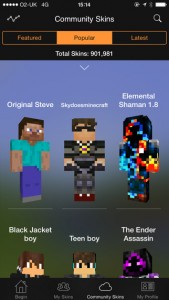 Skin Studio のお試しバージョンも利用できます。Skin Studio Lite は全てのマインクラフトのスキンのデザインする事ができる少しだけ機能が限定されたバージョンです。Skin Studio Pro のユーザーが無料でアップグレードできる点もまた注目する価値があります。App ストアでアップデートタブへ行くだけです。
57digital の他のアプリも忘れないでください!Minecraft Papercraft Studio と Minecraft Skin Scanner もまたとてもクールです!
みなさん、ハッピーホリデー!